Mardi Gras is a celebratory tradition that is practiced in many places.  The season varies with each city. For some like Louisiana and New Orleans, the whole celebration stretches from the 12th day of Christmas until the Tuesday before Ash Wednesday.  While some cities start celebrating on New Year's Eve, some just celebrate on the day itself and some practice it three days before lent.
To put it simply, Mardi Gras is a French word that means "Fat Tuesday".  This is because in the olden times, the night before lent is the last night of eating rich and fatty foods and come Ash Wednesday, the fasting begins.
This night traditionally means that everybody gets to "get fat", eat their hearts out and just forget who they are and their social status, thus the masks.  Masks and Mardi Gras cannot go without each other.  So, what better way to celebrate it than to throw a party and make use of these amazing Mardi Gras printable party items.
Mardi Gras Printable Banner
If you are looking for something to decorate your wall, or even your staircase, then these pennant banners from mardigrasoutlet.com is the perfect choice for you.  Spice up a black stretch of wall, or add these to the garlands in your staircase to make sure your house gets that festive Mardi Gras feel.
Mardi Gras Printable Masks
Mardi Gras will not be complete without the masks.  In the old times, people used masks to hide their personality and social status so they can eat and party all they want before the fasting for lent begins. This is why masks became associated with Mardi Gras.
Take away your inhibitions and feast all you want with these beautiful printable masks.  These masks will surely add excitement to any occasion.
Mardi Gras Printable Jester Hat
If you want to give your visitors more options to choose from, print out some jester hats to add to the mix.  This will help them release their inner clown and add to the overall fun of your party.
Mardi Gras Printable Stickers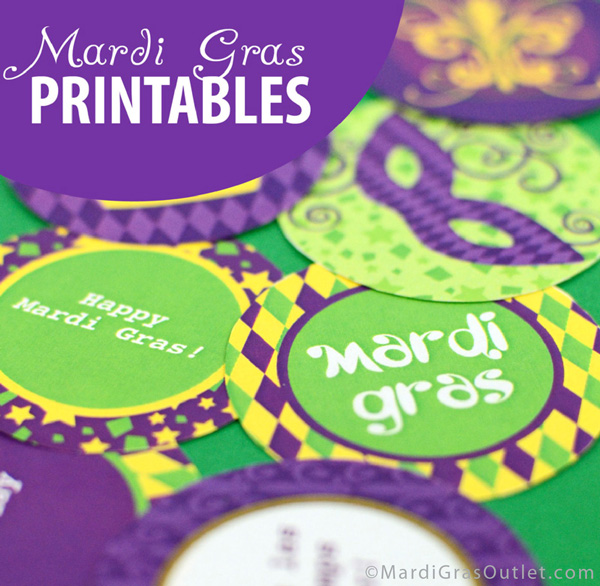 Make your household items stand out with these Mardi Gras printable stickers!  You can use them as stickers or gift tags for your giveaways.  This is something that both you and your children will have lots of fun with.
Mardi Gras Printable Invitations
No party will be complete without invitations. Print these invitations and distribute them to your guests. What better way to introduce them to the theme of the party than to let them see it in the invitation.
In preparation for lent, I'm sure your guests will be glad to wear masks and forget their social status for just a night and eat the night away. Make them enjoy this night with added spices. All you need are the sources, the right supplies and a little bit of creativity.