Spring symbolizes a new beginning.  It marks the awakening of mother nature from its deep slumber during Winter.  The season is also widely packed with activities and events like spring break, Easter, and for moms – Spring Cleaning!
In our previous blog post, we shared some wonderful printer storage ideas to kick off the spring cleaning fever and help you start organizing your home or office.  But spring cleaning isn't only for mom's or homemakers!  It is a wonderful bonding opportunity for the entire family.
Here are some Spring Cleaning Activities that you can do with the family.  Oh, and it comes with some fun free spring cleaning printables, too!
Free De-Clutter Printables
Where should you start?  Spring cleaning can feel quite overwhelming, especially when you start surveying all the rooms and things that you need to start organizing.
Before you can begin organizing and cleaning your home, you first need to get rid of all the clutter!  We're talking about all the items that can either be thrown away or stored.
Laura of the Sunny Day Family recommends 75 things to Throw Away, which she put together in this FREE printable checklist.  The list is made up of things that are taking up space, crowding your closets, and adding to the disorganization of your household.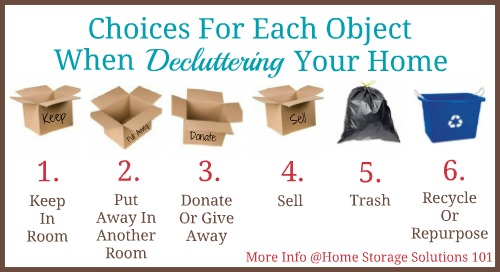 But not everything is meant to be thrown away.  The folks from Home Storage Solutions 101 recommend that you have 6 piles when decluttering your home:
Keep in Room
Put Away in Another Room
Donate or Give Away
Sell
Trash
Recycle or Repurpose
This Simple Declutter Formula is something that you should do in each room to make sure that you have everything covered by the end of your decluttering activities.
Free Printable Labels for Organizing
After you're done with your decluttering activities, it's now time for you to start organizing all the items that were not donated, given away, sold, or thrown away.  You can keep them in wicker baskets, boxes, or in the recycled or repurposed items that you have kept from your declutter pile.  Pinterest has loads of creative storage ideas that you can start with.
Abby of Just a Girl and Her Blog recommends having a contents list, which you can stick onto the inside of the box lid or on the box itself, so it's easier for you to retrieve items from storage.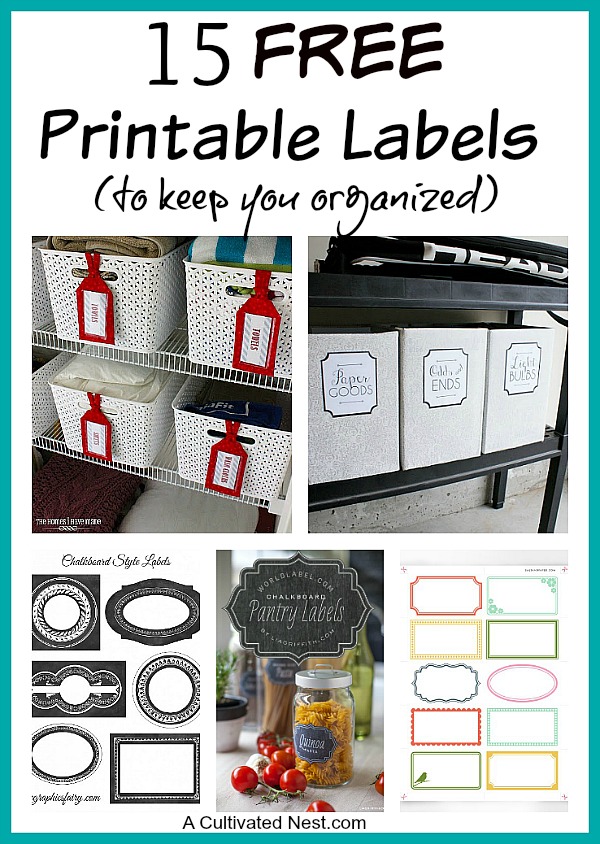 Labels are a very important part of organizing.  The good news is that there are also a lot of fun free printable labels to choose from online!  Just like these 15 Free Printable Labels by Manuela Williams of A Cultivated Nest.
You can use them as tags on wicker baskets, sticker labels on glass containers and apply them wherever you see fit.
Kids Printable Cleaning Checklist
Many adults struggle with "adulting", because they grew up without much exposure to household chores.  Teach your kids to get organized while they are young by including them in your cleaning activities.
Most parents don't engage their kids with any cleaning activity, because they're afraid that it will only start an argument or, for younger kids, it may lengthen the cleaning process and you just want to get it over and done with as soon as possible.
Katie Berry of House Wife How-To's says that "A cleaning checklist for kids rooms empowers your children to take responsibility for their space while helping them learn important life skills."  She shares that most of the headaches that arose from asking her kids to clean their room were simply because they didn't know how to do it right.  She shares this free printable cleaning checklist on her blog to help parents in making cleaning a fun activity for everyone!
Jacquie Fisher also believes that kids NEED to learn how to do age-appropriate chores while they grow up.  She recommends giving the kids their own cleaning tools (kid size, of course!) to help them get enthusiastic about their chores.  She shares this free printable checklist with age-appropriate spring cleaning jobs that kids can help with.
Engage Your Husband in All the Spring Cleaning Fun
Ladies, it's time to face the facts (if you haven't realized this already) that your husbands will not be as excited with spring cleaning as you are.  The good news is that there are a lot of activities that they can help out with, which will make spring cleaning fun for them as well.
The tool shed or garage is your husbands' domain.  So, it's important to tell them about what you're planning to do to re-organize it before you start doing anything.  We recommend that you appeal to the handyman in your husband and show them these 21 Brilliant Garage Organizing Ideas by the LighterSide of Real Estate.  Remember – it's a partnership, so plan out your organizing activity together to make it fun for the two of you.
Spring Cleaning is a great opportunity to get everybody in your home organized.  It also provides a great bonding opportunity for you and your family.  We hope that these free printables and tips will help you in making the most out of this year's spring cleaning experience!